Traditional Moo Doe Virtual Tournament
LOCAL, STATE, and REGIONAL LEVELS
Saturday, April 17th, 10am PST — 2:30pm PST
Tournament demonstration videos with judging results will stream in...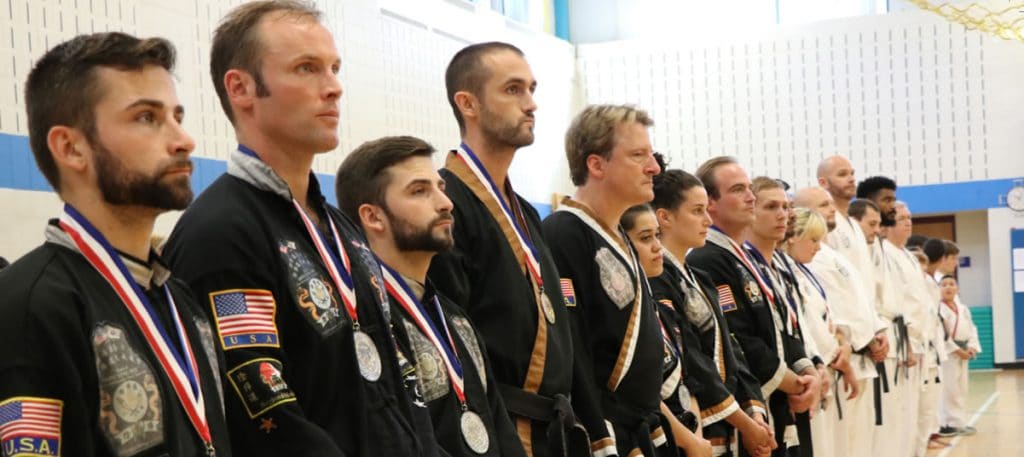 Oom Yung Doe will be hosting a virtual tournament for all areas nationwide on Saturday April 17th, 2021. Students and Instructors can enter at the Local, State or Regional Level, depending upon their qualifications (ask your instructor for more details). Tournament participants will record a video of their tournament entry forms, Chung Dan Hyungs or Chung Jhoong Hyungs according to defined specifications. Videos must be submitted to Oom Yung Doe by Sunday, March 14th. 
"Challenge life. Do not wait for life to challenge you."
Your greatest adversary is you. Your biggest competitor is you. Winning over yourself is success.

Your biggest accomplishment is to reach your fullest potential – this comes from fully and properly challenging yourself through the proven training methods of Traditional Moo Doe. Those who only challenge themselves to be better than someone else limit their ability to reach their fullest potential. 
TIMELINES, ENTRY COSTS, and OTHER INFORMATION
1. Enter Through Your School (Online Entry Coming Soon)
At the Local, State or Regional Level according to your skill level. The entry fee is $60 for LOCAL, $75 for STATE, and $90 for REGIONAL.
2. Submit Your Form Video By March 14th
Demonstration and video format details will be posted here soon and provided to tournament competitors.
3. Tournament Stream with Judging, Saturday April 17th
The Local Tournament is scheduled for 10am PST with the State and Regional Tournament beginning at 12pm PST. More details to follow.
Any student or instructor from White Belt through 5th Degree Black Belt can enter. The categories are:
For students who want to demonstrate curriculum forms* or have 1 Chung Dan Hyung. Participants will submit 1-2 forms and judges will score the best single demonstration. 
For instructors and students who have learned two or more Chung Dan Hyungs.  Participants will submit 2-3 forms and judges will score the best two demonstrations. 
For Certified Instructors who have learned three or more Chung Jhoong Hyungs.  Participants will submit 3-4 forms and judges will score the best three demonstrations.
* For the LOCAL tournament, acceptable forms include: Kata, Pal Gae, Kwu Yong Bope, Kwu Yong Bope Foundation. Children and Juniors can also demonstrate Udo, Kom Doe, and Chong Bong. 
If you would like to print a form, fill it out, and register in your Oom Yung Doe School, download a pdf registration form. 
More information coming soon. If you have specific questions, send us a note at learn@oomyungdoe.com